Entertainment
Complete/Convenient – Ketan Bhagat Talks: Interview
Interview with Ketan Bhagat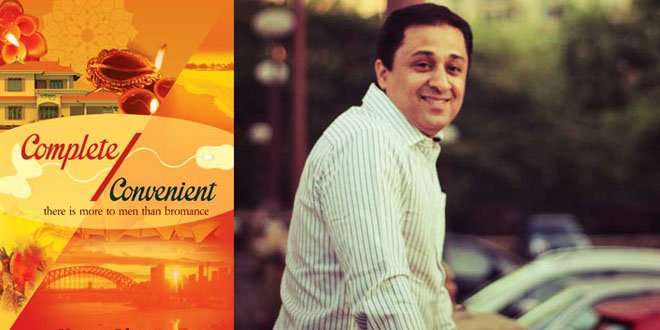 Let's introduce you to Ketan Bhagat. We all know his as a 35-year-old middle class common man living in Mumbai and as renowned writer Chetan Bhagat's brother. Now something which many didn't know. He is an ex-anchor with Doordarshan and is up with a new book – Complete/Convenient. The book which is slated for launch on May 15th is being published by Srishti publications.
Indianrays had a small conversation with Ketan, who spoke about himself, his association with his brother Chetan, about his debut book and his future plans. Here are the excerpts of the interview:
Can you introduce yourself to us as you are a beginner in this field?
I'm a very normal person who's has been living in Delhi. Did my education there. Then worked at several places in India before working in countries such as Malaysia, New Zealand and Australia. I'm settled in Mumbai right now.
Your novel has a unique name – Complete/Convenient. What is it all about?
It talks about the life in India and abroad. Life in India is complete, life abroad is convenient. The story is about young professionals who are married and wants to settle abroad. It is all about the life abroad; the struggle, pain. Life abroad is not at all like how you see in Karan Johar movies. In India, you get everything but it's not as convenient as you live abroad. It's all about the two types of life in India and abroad.
Was your brother Chetan an inspiration for writing? Did he help you in writing?
Obviously, he has been an inspiration for writing; however, we are totally different. He's busy with his works.. He was not involved in this book.
How different is your book from that of Chetan's?
The main difference is that Chetan writes about the youth. I will be talking about the life of men who are in their mid-career, who are married. Moreover, nobody tells the story of a man who faces trouble in his career and family – the fight between his wife and mother, office politics, etc.
Did you find any difficulty in publishing the book or was it easy as you had Chetan who was into this field?
It did help and it did not help. After all, it's the publisher who will decide to publish it or not after going through the book.
How did you land up writing all of a sudden?
Life is very strange. It takes you places at times. I write what I have experienced in life. I cannot write fictions.
Next book – Do you have any other subject in your mind which you want to put down on paper?
I do have a subject. That's the story of a father and son, their relationship. I'll reveal more of it later.
Finally, why do you want people to pick your book?
It is something every person who wishes to settle abroad should read. For others, it will be a good entertainer.
As spoken to Cyril