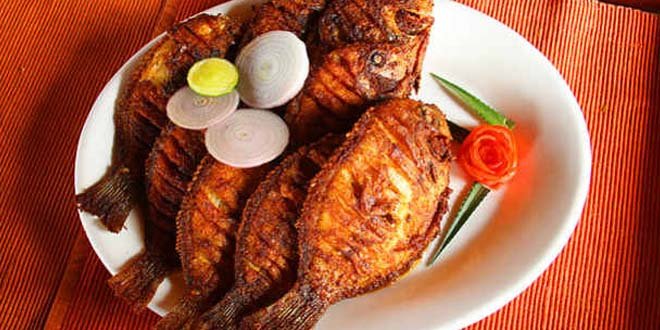 Karimeen (Pearl Spotted fish) is a very tasty and sought after delicacy in Kerala. Karimeen fry is one of the favourite dishes among tourists visiting kerala. Here is the recipe to prepare Karimeen fry in Kerala style.
Ingredients
Karimeen (Pearl Spot), cleaned and slit – 4 nos
Red chilli powder – 2 table spoon
Garlic and Ginger paste – 1 teaspoon
Turmeric powder – 1/2 teaspoon
Pepper powder – 1/2 teaspoon
Salt to taste
Oil As required
Curry Leaves
Sliced onion
Lemon
Method
Smear the fish with some lime juice and keep for five minutes. Mix all the powders and salt and make it to a fine paste. Apply the paste on the fish and keep it for an hour. Add some oil in a frying pan and fry the fish on both the sides over a low flame. Once fried, remove the fish from the pan. Before serving, decorate it with some curry leaves, sliced onion and lemon.