Gadgets
Oneplus Nord
Oneplus Nord Specifications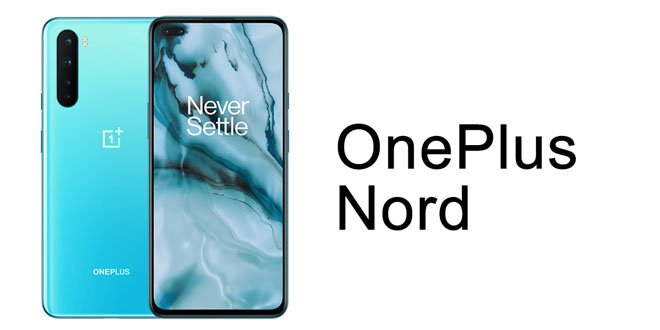 OnePlus has finally announced its new mid ranger in one of its event. OnePlus Nord is the second mid ranger one being OnePlus X released in 2015. Apart from being budget friendly there are a few standout features of this phone.
The handset is attractive and well designed with varied colours. The phone was already launched on July 21, 2020 and will be released on August 4th. Online pop up events are also offered for early purchases. The first pop up event was organized on July 21st with limited stock and the second one being on 31st July. The Nord has three different versions: 8GB RAM and 128GB storage, 12 GB RAM and 256 GB storage. Both the models have same specifications that include Snapdragon 765 G processor, an AMOLED display with 90 Hz with six cameras (4 on the back and 2 in the front). Both the variants are available in India.
OnePlus Nord (6GB RAM/128GB storage in India) is Rs. 24,999.
OnePlus Nord (8GB RAM/128GB storage in India) is Rs. 27,999.
OnePlus Nord (12GB RAM/256GB storage in India) is Rs. 29,999.
The handset is made of plastic with Gorilla Glass 5. The design is good and feels quite premium. The phone has OxygenOS 10.5 on Android 10. The phone supports 5G.
There are two front cameras, the front camera is a 32MP Sony IMX616 sensor and the secondary lens is an 8MP wide selfie camera. OnePlus Nord rear packs a 48-megapixel primary camera, a second 8-megapixel camera, a third 5-megapixel camera and a fourth 2-megapixel camera.
The battery power is 4115mAh with 30W charging which is same as that of OnePlus 8 series. There are lot of similarities in One Plus 8 and the Nord, both have almost identical display. Both have macro camera instead of telephoto lens. All the three phones support 5G.
Is Nord Good Buy Or Not
It is a brand new phone set in the market and too early to give a review on the same. In the weeks to come we can have a firmer opinion, but as of now it all depends on what we are looking for. This can be a perfect phone if you are a One Plus fan and liked the older version. Apart from the flagship, the phone has great Oxygen 5G support. The price is another factor because Nord comes cheaper than the previous model.
The phone is a good pick if you need something within the budget and has a great look. However we must wait for the reviews.
Oneplus Nord Specifications
Display : 6.44-inch
Processor : Qualcomm Snapdragon 765G
RAM : 12GB
Storage : 256GB
Front Camera : 32megapixel + 8megapixel
Rear Camera : 48megapixel + 8megapixel + 5megapixel + 2megapixel
Resolution :  1080×2400 pixels
OS : Android 10
Battery Capacity : 4115mAh