Gadgets
Tribit Fly Buds 3 Review
Tribit Fly Buds 3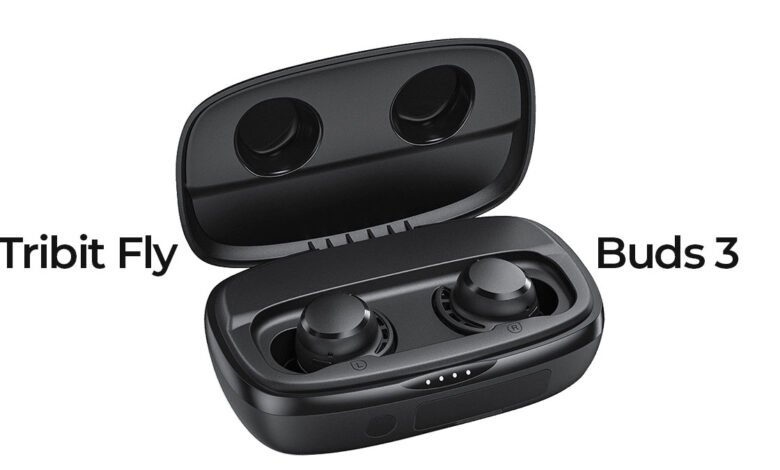 Few years before one would not have thought we could get rid of tether wires that stretch from the right to left earphone. This was a drastic change in the conventional earphone that was available years ago. The Tribit fly is relatively of low cost compared Apple Airpods or Bose Sound sport free. This is available at 40 $ on Amazon.
Design
The flybud comprises of a charging case left and right sided earbud. The case dimensions are 3.4 x 2 x 1.2 inches. It comes mostly in matte black plastic with glossy black plastic strip that serves as a divider between top and bottom. The front of the case has a single button and a flap cover which has a USB-C and USB-A connectors. The USB-C is to charge the case and earbuds, USB-A allows the case to be used as a portable device charger. The earbuds are made of matte and shiny plastic as the case with rubber ear fins The ear fins comes as S/M/L and ear tips too comes in S/M/L of different colour combination grey/red/black. You can even get USB-C charging cable and a user manual in the box.
Setup and Usage
The earbuds comes with a small sticker covering the charging contacts that needs to be removed. The magnets holding the earbuds are quite strong that one can't remove the buds that easily. It is however easier to hold the case in both the hands and use the thumb to push it to the centre to grasp the earbud. Placing earbuds in the ears was easy and comfortable and provided noisefree with the inbuilt earfins and tips. There is a voice prompt when the earbuds are connected.
By touching/tapping the left and right earbuds the users can control music and phone calls.
• Double Tap – Play/Pause music
• Double Tap – Answer/end phone call
• Triple Tap – Next Track
• Press and hold for 2s – Reject incoming call
• Press and hold for 2s – Activate voice assistant
Performance
The performance of the earbud had been quite good with reviews made. After playing a number of tracks for an hour the Flybud 3 still shows approximately 70% battery life remaining. Playtime of five hours could be fine. The case can give 20 charges for 100 hours of playtime. The Bluetooth range is 33 ft.
Call Quality
The audio is quite clear on both the fly buds, however many will not prefer a noise free earbud for calls.