PSC Study Materials
PSC Notes about 14th Kerala Ministry (Pinarayi Viajayan's)
About Pinarayi Viajayan's 14th Kerala Ministry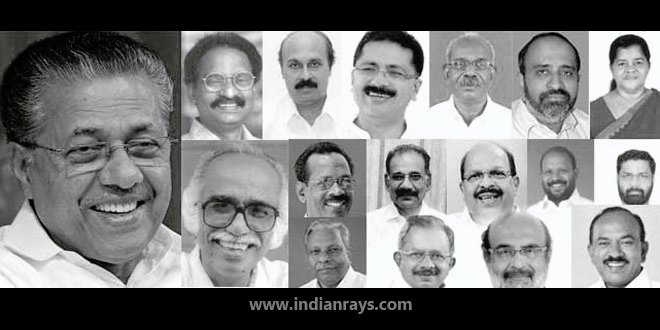 Pinarayi Vijayan ministry is the 14th Ministry of the Kerala state. The ministry came into existence on 25 may 2016. The Pinarayi Vijayan's ministry had a total of 19 ministers in the cabinet.
Overview of 14th Ministry of Kerala
Head of the State (The Governor of Kerala): P. Sathasivam
Head of the Government: (The Chief Minister of Kerala): Pinarayi Vijayan
Party of the Members of Ministry: Left Democratic Front (LDF)
Opposition Party: United Democratic Front (UDF)
Opposition Leader: Ramesh Chennithala
Elected Year & term of the Legislative Assembly: 2016, 5 years (2016 to 2021)
Speaker of the Assembly: P. Sreeramakrishnan
Deputy Speaker of the Assembly: V. Sasi
Predecessor: Second Oommen Chandi Ministry
List of All Ministers in the Cabinet of 14th Ministry
Pinarayi Vijayan (Constituency: Dharmadom)
Chief Minister of Kerala, Minister for General Administration, Home Affairs, Vigilance, IT.
T.M. Thomas Isaac (Constituency: Alappuzha)
Minister of Finance and Coir.
G. Sudhakaran (Constituency: Ampalapuzha)Minister for Public Works and Registration.
A.K. Balan (Constituency: Tharur)
Minister for Welfare of Scheduled Tribes, Culture, Law and Parliamentary Affairs.
Kadakampally Surendran (Constituency: Kazhakootam)Minister for Devaswom, co-operation and Tourism.
A. C. Moideen (Constituency: Kunnamkulam)
Minister for Industries and Sports.
K. K. Shailaja (Constituency: Koothuparamb)
Minister of Health and Social Justice.
C. Raveendranath (Constituency: Puthukkadu)
Minister of Education.
T. P. Ramakrishnan (Constituency: Perambra)
Minister for Excise and Labour.
J. Mercykutty Amma (Constituency: Kundara)
Minister for Fisheries and Traditional Industries.
K. T. Jaleel (Constituency: Thavanoor)
Minister for Local Administration and Minority Affairs.
E. Chandrasekharan (Constituency: Kanjangadu)
Minister of Revenue and Housing.
V. S. Sunil Kumar (Constituency: Thrissur)
Minister for Agriculture.
P. Thilothaman (Constituency: Cherthala)
Minister for Food and Civil Supplies.
K. Raju (Constituency: Punalur)
Minister of Forest, Animal Husbandry and Zoos.
K Krishnankutty (Constituency: Chittur)
Minister for Water Resources.
Ramachandran Kadannappalli (Constituency: Kannur)
Minister for Ports, Museums and Archeology.
M.M Mani (Constituency: Udumpunchola)
Minister for Electricity.
A. K. Saseendran (Constituency: Elathur)
Minister of transport.
Ex-Ministers of 14th Cabinet
E. P. Jayarajan – Minister for Industries and Sports until his resignation on 14 October 2016.
A. K. Saseendran – Minister for Transport from 25 May 2016 until his resignation on 26 March 2017.
Thomas Chandy – Minister for Transport (from April 1, 2017, to 15 November 2017).
Mathew T Thomas – Minister for Water Resources until his resignation on 26 November 2018.