Automobile
Nostalgia: Maruti Suzuki Zen
Maruti Suzuki Zen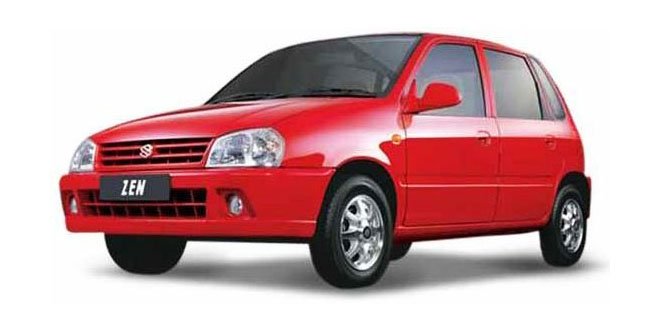 In India Maruti Suzuki Zen was introduced in 1993 as a five door hatch back. During that time Zen was one of the premium hatchbacks.
Zen was very much popular in India and the design changes were less. Until 2003 Zen had only minor changes in grill which changed thrice, and body coloured bumpers, power steering, power windows etc were introduced. During this time Maruti Suzuki introduced Zen Classic, three door hatch Zen Carbon and Zen Steel. Zen was also introduced in diesel version with a Peugeot's engine. Zen also had an automatic transmission.
The major facelift happened in 2003 when Zen undergone a major cosmetic surgery without any change in the basic structure. In 2003 Maruti Suzuki introduced new Zen and nick named it as cat-eyed Zen. This was the last Zen with the unchanged structure for many years till 2006. In 2006 Maruti Suzuki introduced Zen Estilo which was entirely different, but was not that successful as earlier Zen.
Zen's engine is an all aluminium 4-valve four cylinder inline 1.0Litre (993cc) engine. First it was carbureted type and later changed to MPFI. This was a front wheel drive model with transverse installation. This engine was mated to a five speed transmission. Zen had a maximum power of 60.9PS @ 6000rpm and maximum torque of 78.48Nm @ 4500rpm.
Maruti Suzuki Zen had a monocoque frame with 145/70 R13/R12 tyres. Rack and pinion steering gear with power assist was introduced in later models. Zen had independent Mc Pherson strut with coil springs front suspension and 3 link rigid axles with isolated trailing arm, coil spring and gas filled shock absorbers at rear.
Zen was a great hit on Indian roads and Indian racing scene. Many car enthusiasts modify Zen and make it a superb one. ZEN is actually in acronym for Zero Engine Noise. In Japanese Zen means complete. Zen was a great vehicle on road.