Automobile
Mahindra Off-Road Vehicle Roxor Unveiled in US
Off-Road Vehicle Mahindra Roxor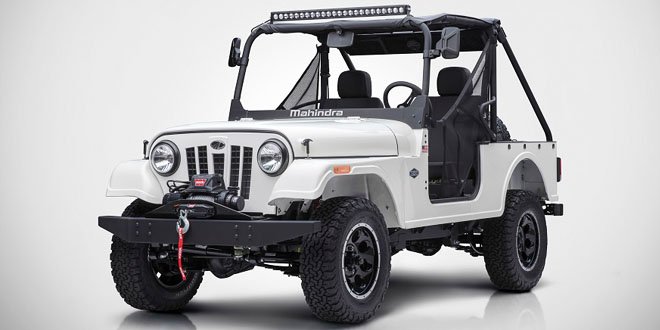 Mahindra Automotive North Americ unveiled off-road vehicle Mahindra's Roxor.
Mahindra's Roxor has a steel body on a boxed steel frame. It has a heavy-duty Mahindra turbo-diesel 4 cylinder engine with 5-speed manual transmission.
The Roxor draws power from the 2.5-litre M2DICR BSIV diesel engine. In this guise, the engine makes 63PS of maximum power at 3200rpm and 195Nm of peak torque from 1400rpm to 2200rpm. The Roxor, which is offered as a specialist off-road vehicle in the USA, has a limited top speed of 72kmph. Mahindra says that the Roxor will return a fuel efficiency figure of 13-14kmpl (32-34mgp) and offers a towing capacity of up to 1583kg (3490 lbs). Further, the base model weighs at 1376kg (3035 lbs, kerb weight).
Mahindra will, however, also offer the Roxor in a Limited Edition variant featuring a host of additional equipment like a soft top, winch, light bar, off-road tires, side and rear view mirrors, audio system and grab handles.