Food & Travel
Kerala Style Beef Curry
Kerala Style Beef Curry Recipe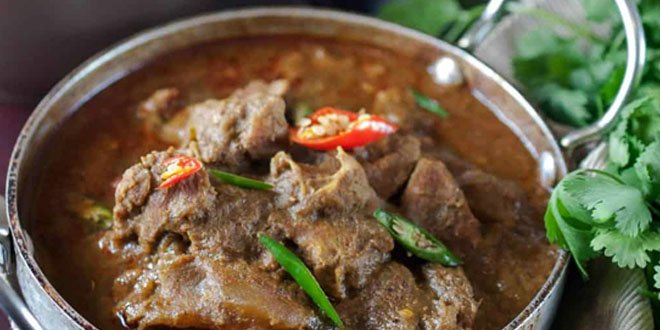 Beef is the culinary name for cattle meat. It is a source of high protein and other nutrients like vitamin B12, iron and zinc. Red meat is the source of Carnitine i.e. protein. It is 85% lean meat and 15% fat. Some of the cooking styles for beef are grilling, barbeque, broiling, griddle, roasting or frying. With adequate combination of temperature and cooking time, bacterias present in the flesh will be killed, overcooking can make the meat hard. So it is important that the meat is cooked in the right temperature.
Beef recipes are quite common among the people from Kerala. There are a variety of Beef curries, beef fry that are toasted well with spices.
Kerala style beef curry is a side dish (Kerala style) that goes well with kerala porotta (a special kind of bread made out of maida and is layered in circular form), ghee rice, steamed rice, roti or chapatti. Cooking time for this dish is 45 minutes, preparation time is 15 minutes. This dish can be served to 6 people.
Ingredients
Beef: 1 kg
Onion: 3 nos.
Green Chillies: 3 nos.
Salt to taste
Curry leaves: few in no.
Water: 1cup
Coriander leaves is optional
For Grinding
Ginger: 1 ½ tablespoon
Garlic: 1 ½ tablespoon
Pepper Powder: ½ teaspoon
Chilly Powder: 1 tablespoon
Coriander Powder: 1 ½ tablespoon
Turmeric Powder: ½ teaspoon
Garam Masala: 1 teaspoon
Fennel Powder: 1 teaspoon
Vinegar: 3 teaspoon
How to make Kerala Style Beef Curry
Heat oil in a pan/pressure cooker. Add finely sliced onions, green chillies, curry leaves and salt. Saute until they turn light brown.
Grind together the above mentioned ingredients ginger, garlic, pepper powder, chilly powder, coriander powder, turmeric powder, turmeric powder, garam masala, fennel powder, vinegar. Add the mixture to the pan and fry well.
Add water and salt into the gravy and mix well. Add the beef pieces to it and mix well again. Cook it until the beef is done. It generally takes two whistles to get cooked. Onion gets mashed into the gravy by this time. Add the curry leaves to the gravy for garnish, we can even add some coriander leaves but it is optional. Boil the gravy until it gets thicker in consistency. You can make it spicier by adding more pepper powder at this time or add more green chillies at the start. We can even add tomatoes if we want to do so.
This can be served to seven persons and goes well with boiled rice, neychoru, appam, porotta, puttu (rice powder in steamed form) or chappathi.